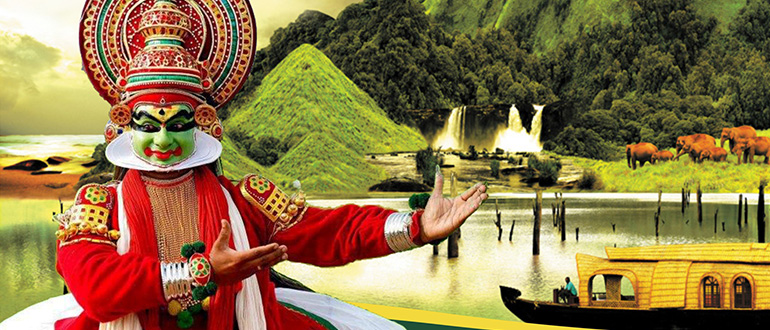 Best of Kerala God's own Country
Cochin
Munnar
Thekkady
Kumarakom
Kovalam
Trivandrum
TOUR HIGHLIGHTS SOUTH INDIA
Breathtaking natural and cultural patrimony
Charming accommodation
Tea Valley Full Day Trip
Ayurveda & spa
Nature Parks & Lakes
Relaxed look into India
Kathakali performance in Cochin
Motorboat ride in Alleppey
Visit to coconut tender
Tea Valley Full Day Trip (Forest Flower garden, Echo point, film shooting point, Honey bee trees, Eravikulam national park, Tea Factory visit etc) at Munnar
MAP South India (Kerala)
Day 01 | Cochin
As per your flight our representative will received you from Domestic airport.
Our representative will receive you at the Cochin Airport and will escort you to the hotel. Feel at leisure in the evening when you relax yourself in this picturesque 'port city'. Later proceed towards sightseeing of Cochin, which is an unusual mix between medieval Portugal, Holland and the English countryside, with the Malabar's tropical coast as your backdrop. This city is also the right place to see a Kathakali performance if you are a fan of dance. Stay overnight at Cochin hotel.
Sightseeing Activities or Places to visit (recommended):
Chinese Fishing Nets, Fort Kochi
The chinese fishing nets (Cheenavala) are distinctly unique to Cochin. It is believed that traders from the court of the Chinese ruler Kublai Khan introduced these nets here. Oddly, these nets are found only in Kochi, outside China! Many fishermen earn their livelihood by fishing using these massive nets. A whole stretch of the coast along Fort Kochi and Vypeen are dotted with these nets.
Fort Kochi beach
A stroll along the beach, particularly at sunset with the chinese fishing nets and sailing ships in the background, is a memorable experience. Many European style bungalows can be seen along the shoreline. The coastal stretch has loads of small stalls, which make on demand mouth-watering traditional cuisines using freshly caught fish.
St. Francis Church, Fort Kochi
It is the oldest church built by Europeans in India. On his 3rd visit to Kerala, Vasco da Gama, the Portuguese trader who reached India from Europe by sea, fell ill and died in Kochi. He was buried in the St. Francis Church. Later his remains were taken back to Portugal. In spite of that, his burial spot inside the church has been clearly marked out.
Vasco House, Fort Kochi
Vasco house, located on Rose Street, is believed to be one of the oldest Portuguese houses in India. Vasco da Gama is believed to have lived here. This house features European glass paned windows and verandahs.
Santa Cruz Basilica, Fort Kochi
The original church, situated in Fort Kochi, was built by the Portuguese in 1505 and named as a cathedral in 1558. The British colonists destroyed the cathedral in 1795. The current structure was built in 1905 and raised to the status of a basilica by Pope John Paul II in 1984.
Jewish Synagogue and Jew Town, Mattancherry
The synagogue, built in 1568, is magnificently decorated by Chinese tiles and Belgian chandeliers. Giant scrolls of the Old Testament can be found here. It is located near the Dutch Palace in Mattancherry.
Dutch Palace (Mattancherry Palace), Mattancherry
The Dutch Palace was originally built by the Portuguese. Later, in 17th century, the Dutch modified it and presented it to the Raja of Kochi. Coronation of many Rajas of Kochi were held here. The palace has a fine collection of mural paintings depicting scenes from the Hindu epics Mahabharatha and Ramayana. The palace is located in Mattancherry.
Parikshith Thampuran Museum
This Rajas of Cochin used to conduct their durbars in this impressive building located within the Durbar Hall grounds. It was later converted to a museum which has a treasure trove of archaeological findings and relics including old coins, sculptures, oil paintings and murals. The building has been taken over by the Kerala Lalitha Kala Academy and now houses the Gallery of Contemporary Art. All the exhibits of the museum have been moved to the Hill Palace museum
Kathakali performance
See India Foundation (Kalathiparambil Road, near the Ernakulam Junction railway station), The Cochin Cultural Centre (Manikath Road, behind Medical Trust Hospital) and Art Kerala (Kannanthodathu Lane, near Valanjambalam Temple) organises Kathakali performances every evening. Kathakali is a traditional danceform of Kerala and the impressive facial expressions, hand gestures and dance moves will leave one spellbound.
Day 02|Cochin Munnar [135kms apx]
Next morning drive down to Munnar (4 ½ hrs), On arrival, check into the hotel and Your sightseeing itinerary will include Anaimudi (2,695 m), South India's highest peak, the Christ Church, the Evarikulam National Park, the Rajamala Hills, Top Station and the Madupetty Dam. Travelers can also indulge in activities like boating and horse riding here. Return to the hotel for overnight stay.
Day 03|Munnar Eravikulam National Park and plantations
A day dedicated to exploring Eravikulam National Park as well tea and coffee plantations. You can take a trek to Anamudi Peak, which is the highest peak of south India. Stay overnight at the hotel.
Sightseeing Activities or Places to visit (recommended):
Munnar
Munnar - breathtakingly beautiful - a haven of peace and tranquility - the idyllic tourist destination in God's own country.
Set at an altitude of 6000 ft in Idukki district, Munnar was the favored summer resort of the erstwhile British rulers in the colonial days. Unending expanse of tea plantations - pristine valleys and mountains- exotic species of flora and fauna in its wild sanctuaries and forests - aroma of spice scented cool air - yes! Munnar has all these and more. It's the place you would love to visit - it's the place you would wish never to leave.
Eravikulam National Park
One of the main attractions near Munnar is the Eravikulam National Park. Located about 15 km from Munnar, this park is famous for its endangered inhabitant - the Nilgiri Tahr. Spread over an area of 97 sq. km., this park is also home to several species of rare butterflies, animals and birds. A great place for trekking, the park offers a magnificent view of the tea plantations and also the rolling hills caressed by blankets of mists. The park becomes a hot destination when the hill slopes here get covered in a carpet of blue, resulting from the flowering of Neelakurinji. It is a plant endemic to this part of the Western Ghats which blooms once in twelve years. The last time it bloomed was in 2006.
Anamudi Peak
Located inside the Eravikulam National Park is the Anamudi Peak. This is the highest peak in south India standing at a height of over 2700 m. Treks to the peak are allowed with permission from the Forest and Wildlife authorities at Eravikulam.
Day 04 | Munnar Thekkady [by road 110kms approx 3hrs 30mins]
After breakfast check out from the hotel and proceed to Thekkady, which is also known as Periyar (Periyar Wildlife Sanctuary is one of the world's most fascinating natural wildlife reserves. Enroute visit Lock Heart Gap, Gavi Forest, Anayirangal Dam. Overnight at the hotel.
Visit Sightseeing
Elephant Junction
Periyar lake
Gavi Forest
Day 05| Thekkady Kumarakom [120kms apx]
After breakfast Check-out the hotel and drive to Alleppy Enroute visit local sightseeing in Kumarakom. Visit head along the shore of Lake Vembanad, located in the middle of Palai Plain with its hypnotizing rice paddies and coconut trees in plain view and pleasant villages. Overnight stay at hotel.
Vembanad Lake:-
Vembanad Kayal or Vembanad Kol) is the longest lake in India and the largest lake in the state of Kerala. It is also one of the largest lakes, in India. A lake spanning several districts in the state of Kerala, it is known by different names in different localities viz. Punnamada
Lake in Kuttanad, Kochi Lake in Kochi. The Port of Kochi is located around two islands (the Willingdon Island and Vallarpadam) in a portion of this lake known as the Kochi Lake. The celebrated Nehru Trophy Boat Race is conducted in a portion of this lake, in the Kuttanad region, known as the Punnamada Lake. High levels of pollution have been noticed at certain hotspots of Vembanad backwaters. Government of India has identified the Vembanad wetland under National Wetlands Conservation Programme.
Kumarakom Bird Sanctuary:-
A birdwatcher's haven, the Kumarakom Bird Sanctuary, covers an impressive expanse of 14 acres. A large variety of different birds can be found at the sanctuary at any given time. Numerous migratory birds even from places like Siberia visit the sanctuary. It is common to see golden-backed woodpeckers, night herons, kingfishers, paradise fly-catchers and egrets.
The entire area was established by the government of India in an effort to preserve the natural habitat of both native plants like mandrakes and coconut trees and various birds. Local people can be hired to canoe you through the entire sanctuary.
Day 06| Kumarakom Kovalam [178 km 5 hour approx]
After a refreshing breakfast served onboard, check out from the hotel and drive to Kovalam. Up on arrival, check in to a hotel. This beach town ranked high among international tourists is an ideal destination to feel the tropical sun and to feel contented about the golden suntan. Water enthusiasts have a lot of beach activities to indulge in like - kayaking, swimming, surfing and skiing. Occasionally walk into some of the certified massaging centers alongside the beach and pamper yourself with an exotic herbal, body- toning massage. Overnight to be spent at hotel near the beach
Day 07 | Kovalam Trivandrum 20kms apx (Departure)
Morning get dropped at Trivandrum International airport for your flight back home, feeling contented about a wonderful holiday you spent in the "God's Own Country".